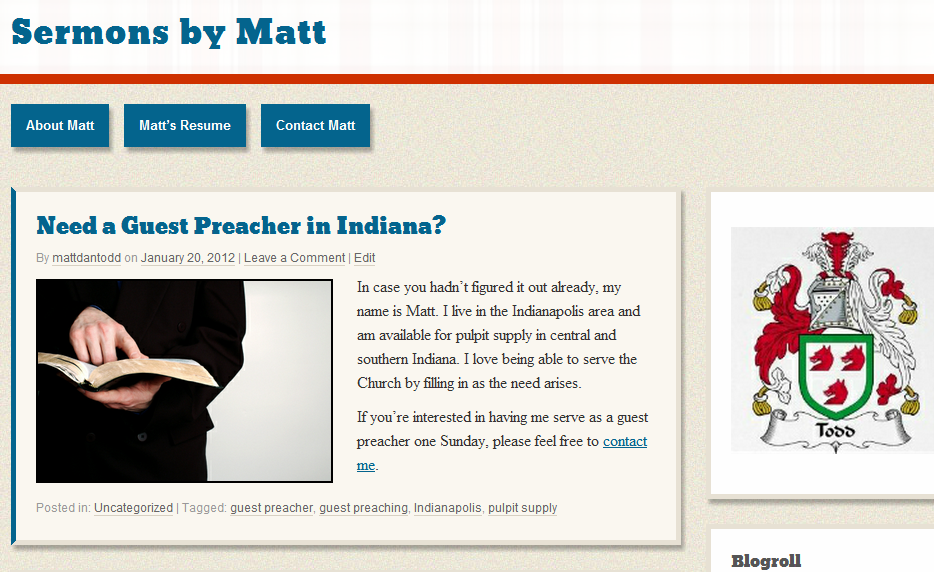 My family and I currently live south of Indianapols and I am more than willing to preach anywhere within a two hour radius of our house. Of course, I'm willing to change that rule for special circumstances. You can find a sample of my preaching style at Sermons By Matt (where you'll also find my resume). Please don't hesitate to contact me if you're interested in having me share with your congregation!
I love to preach. I love taking the truth found in God's Word and sharing that truth in ways that are creative, challenging, memorable, and applicable to daily life. I'm a firm believer that the truths we learn on Sunday morning must be applied in our daily lives throughout the week.I've been known to send home anything from pinwheels to small rocks to kernels of corn in an effort to help the community of faith remember the key thought from the message.
Having spent four years as the only staff member of a small rural church in Indiana, I know and understand that it can be a challenge to find a suitable guest preacher on the occasional weekend because of vacations, missions trips, or other planned events. I also know it can be difficult to find someone to preach during an unexpected emergency situation. Because my current place of employment includes three-day weekends, I believe God has placed me in this unique position to have the freedom to be able to provide this service to area churches.